Data from Afar
Weather Modification, Inc., offers a variety of remote sensing solutions to
measure various atmospheric parameters from afar.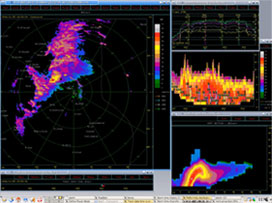 We offer C-band Doppler and polarimetric Doppler weather radar systems. View the specifications and capabilities of our state-of-the-science Weather Radar Systems for more information.
Atmospheric water, in vapor and liquid forms, can be readily measured by dual-channel microwave radiometers. Atmospheric sounding systems for the measurement of upper atmosphere temperature, humidity, and winds are also available. Learn more about either of these monitoring and sensing technologies in our Meteorological Services section.